You always wanted to prototype an IoT solution? With our IoT Summer action, now is the best time to build a solution using the LoRaWAN network! Hurry up to benefit the 100€ discount only available for 100 kits and during a 100 days period.
The Enco Market is offering a special discount (only 199,00 € Excl VAT & Shipment) on the All Things Talk LoRaWAN Rapid development kit ! Limited to Belgium, during a 100 days period on a limited stock of 100 kits, this discount is perfect if you are looking for an introduction in IoT with LoRaWAN connectivity. In combination with EnCo.io, we are using this kit  for more than a year now and we could witness a perfect fit especially for makers in education or Hackathon context!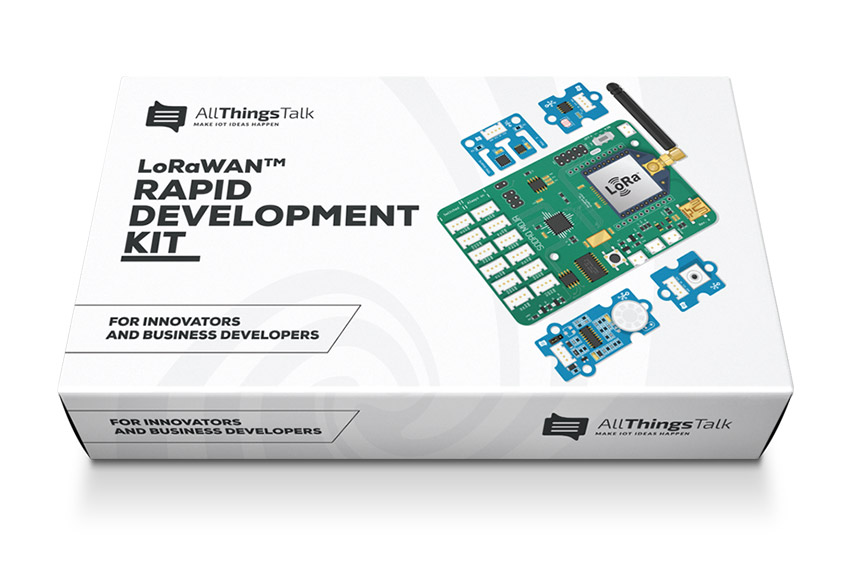 It consists of a powerful Arduino computer, LoRa Radio and plug n'play Grove sensors. Powered by solar and battery. Grove is a modulated, ready-to-use tool set. Much like Lego©, it takes a building block approach to assemble electronics. Compared with the traditional, complicated method of using a breadboard and various electronic components to assemble a project, Grove simplifies the learning process significantly.
The kit includes:
1* SODAQ Mbili, low power Arduino (ATmega 1284P) with 16kB, and 128kB flash memory.
1* LoRa Microchip RN2483 module with U.FL connector
1* Antenna (1⁄4 Wavelength) and U.FL to SMA pigtail
1* Power adaptor (Euro 220V/5V)
1* Mini USB cable
1* 1.5W Solar panel
1* Lithium Polymer Battery 1200mAh
1* Grove – Button
1* Grove – Light sensor
1* Grove – PIR motion sensor
1* Grove – Temperature – pressure – humidity sensor
1* Grove – 3-Axis Digital Accelerometer
1* Grove – Sound/Loudness Sensor
1* Grove – GPS module
1* Grove – Air quality sensor
1* Grove – Tilt switch
1* Grove – Magnetic door switch & screw connector
10* 5cm 4 Pin Grove Cables
5* 20cm 4 Pin Grove Cables
Hurry up & go ahead to the EnCo market here to benefit this special promotion ! In opposition to cheaper kits, this kit is perfect if you don't know exactly what you plan to build. You can test out different solutions as it is Grove based. Everything is included, from the 6 month LoRa subscription to the 10 most common sensors and even a solar panel to test it out on the beach!
Let us know what you did with it here in comments or via our twitter account and facebook page !
This unique promotion will end on September 15th 2017 or as soon as the 100 kits are gone!