During the Odoo Experience Days, Proximus EnCo joined forced with BHC to demonstrate – in a world premiere – an IoT integration module for the Odoo CRM/ERP software suite.
BHC, an IT Service company located in Mons, offers a wide range of ICT products and services aiming at fitting all professional needs including network setup support and maintenance, business applications, custom development, ERP integration and mobile technologies. BHC is both Odoo Gold partner (#1 in Belgium and #3 worldwide) and Proximus EnCo preferred partner.
Let's come back to what was showcased and why it could matter to your business.
IoT to improve business processes
By integrating IoT and Telco capabilities in the Odoo suite, BHC and EnCo were able to reach an important milestone for the Opensource ERP. Indeed, thanks to IoT, we are now capable of both receiving and sending information from several applications, hence improving and automating business processes.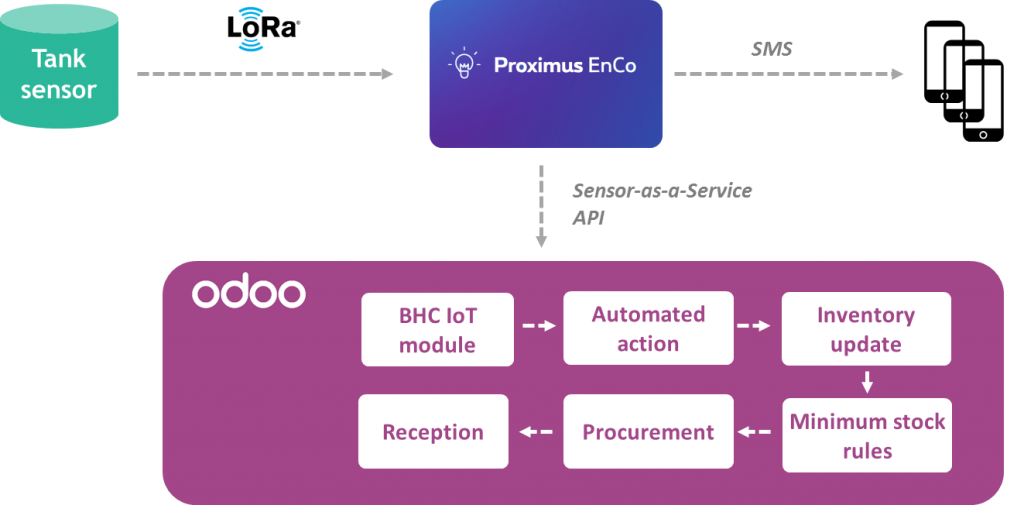 The concept presented during the Odoo Experience Days was about a LoRaWAN sensor installed on an oil tank in a warehouse, measuring and sending level information to an Odoo instance used by a virtual enterprise.
Revamp your #erp and business processes with #iot #lorawan #sms #odoo with @BHCsprl and @ProximusEnCo #api #digitaltransformation pic.twitter.com/20bPFrXsvz

— Gianni Manderioli (@GManderioli) October 4, 2017
We found that benefits for the users were easier triggering of processes such as CRM/marketing actions (e.g to propose a customer to refill their tank), systematic stock monitoring, and automated stock/purchase actions to refill the tank. This translates into reduced workload, better data management, and new sales opportunities.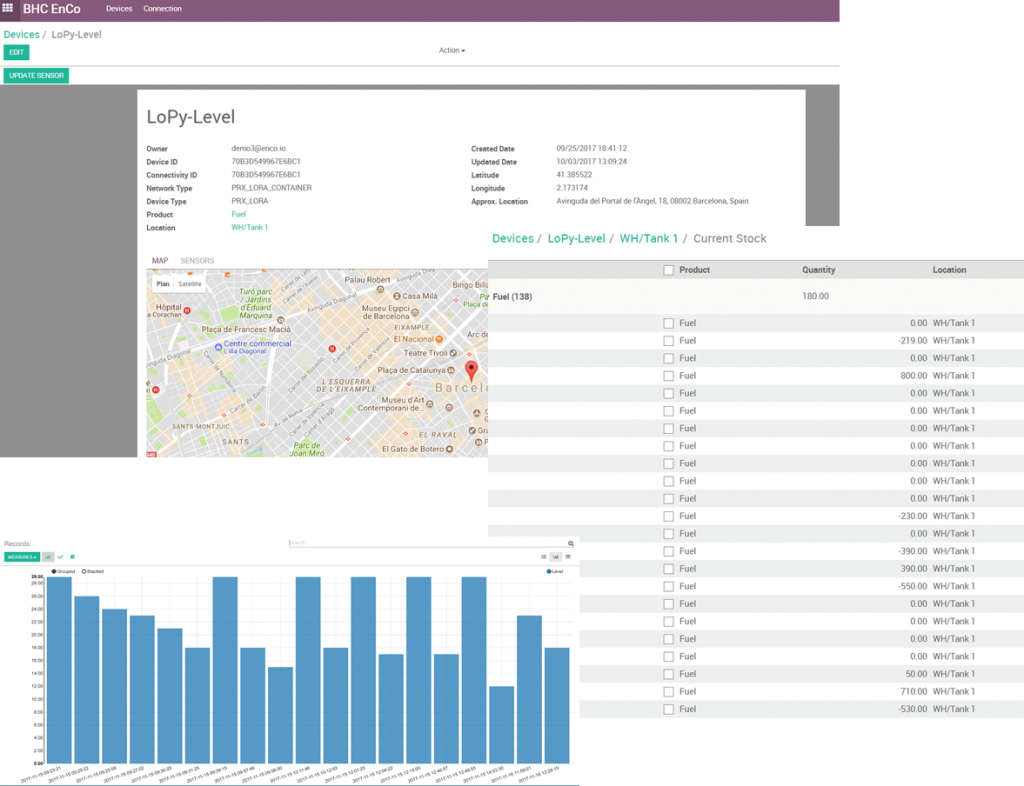 This is, of course, just the beginning. EnCo and BHC aim at enabling applications and functionalities such as asset tracking, geo-fencing, automated notification and alerting, improved engagement of the multiple stakeholders all along the supply chain, and many more use cases.
How did we did this? Complementary capabilities
In order to support BHC in developing these features, Proximus put forward several of its API and maker tools.
Sensor-as-a-Service API
A LoPy device was used for this demonstration in order to measure the tank level. It was on-boarded on the EnCo platform and on the Proximus LoRaWAN network thanks to the Sensor-as-a-Service (SEaaS) API. The LoPy device was completed with an ultrasonic sensor to measure the level of the fuel tank and translate it into a percentage.
For this specific use case, we selected the "IoT Favorite" LoRa profile and the "Heavy" connectivity plan.
The IoT Favorite profile allowed us to decode the payload of the tank level sensor and send it in a JSON format to BHC. The IoT module developed by BHC fetches the data in a secure way through SEaaS API, without having to worry about the device management complexity itself.
The Heavy connectivity plan allows to send up to 96 messages a day, i.e one every 15 minutes. If needed we could have pushed up to 288 messages a day, i.e one every 5 minutes.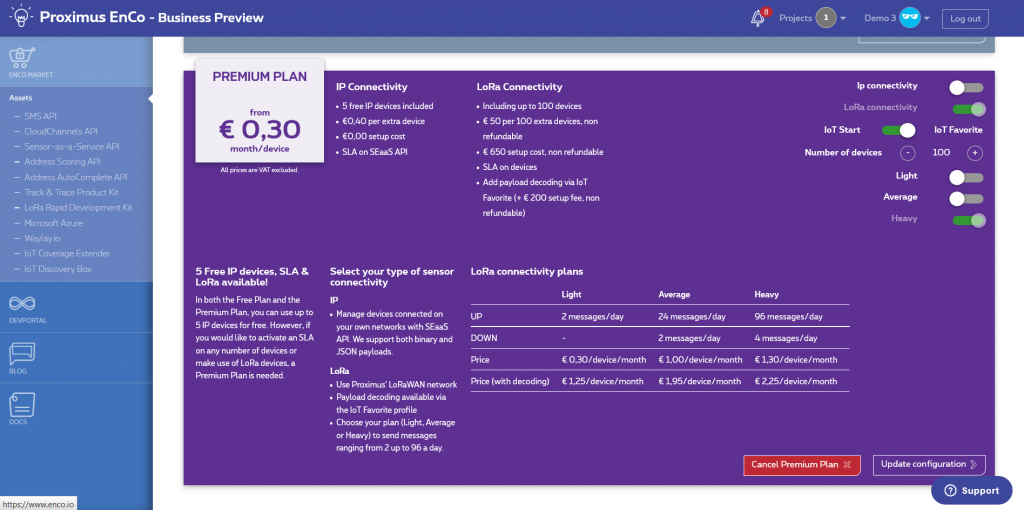 CloudChannels API and SMS API
We also wanted to notify the stock owner if the level of the tank dropped below 20%.
This feature was easily implemented by creating an additional branch in the CloudChannels API. At sensor level, clicking on "Edit Output" brings you to the CloudChannels API definition page. From here, drag and drop the SMS API tile, configure a rule, the mobile number you want to notify and the message you want to pass, and your application will send notifications automatically.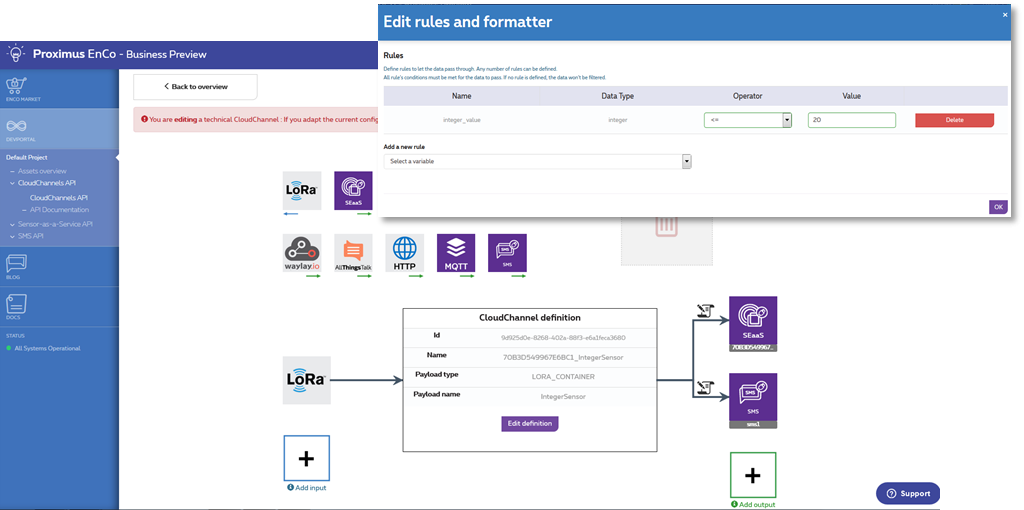 And voilà, that's it! Your Odoo instance receives sensor data and triggers SMS notifications.
Looking forward to a fruitful collaboration and enabling value
We are strong believer @ EnCo that IoT, Data, along with other technologies, will help improve various industries and the way people work and address priorities.
The added value of IoT within Odoo is acknowledged and will be in the coming years an important topic. The EnCo/BHC integration will be used in multiple cases and sectors: public administrations, companies, logistics and industry to name few.
We were very happy to support BHC in this integration and to showcase what happens when partners join forces. Once again, the work of few committed people proved efficient to enable many others. Big thumbs up to the BHC team!! We look forward to further enabling the vibrant Odoo community.
Finally, special thanks to Pascale Woodruff, BHC Project Manager, and Henry "EnCo Chief Maker Officer" Boutry for their enthusiasm, dedication and for making this demo possible.
You can see the Odoo Experience Days presentation here:
The EnCo & BHC teams