Proximus expose Telco assets via the Enco Market Place for the developer community. SAP API Business Hub is the central catalog of all SAP and partner APIs. Developers can build sample apps, extensions and open integrations with SAP, offering access to a broad set of intelligent capabilities (like the ones offered by SAP Leonardo). It's logical that both worlds will meet because telecommunication is a cornerstone in a lot of business processes.  As a partner of SAP, we worked on the integration of 2 different assets (SMS and IOT ).
The Proximus SMS Toolbox API
You can discover the Proximus SMS Toolbox API and test it on the SAP API Business Hub.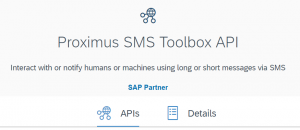 Frederik Op De Beek, Presales Platform & Cloud technology at SAP, made this very clear video demonstrating how to integrate our SMS APIs for notification scenarios from within business processes or apps. You can also find another example about how SMS can be used in a SAP Cloud workflow in this SAP blog article.
Proximus LoRa & SAP IOT
The second part of our partnership with SAP comes as SAP IOT software modules that support the integration between the Proximus LoRa network (MyThings) and the SAP IOT cloud platform.  These modules not only help you integrate the data flow coming from your IoT sensors in the SAP IoT data structure, they also make it much easier to deal with device management, automatically creating newly network-provisionned devices in SAP's IoT solutions.
The EnCo CloudEngine is the cornerstone of this integration, as illustrated by the screen capture below. The documentation of these modules is self contained and accessible directly from the CloudEngine   .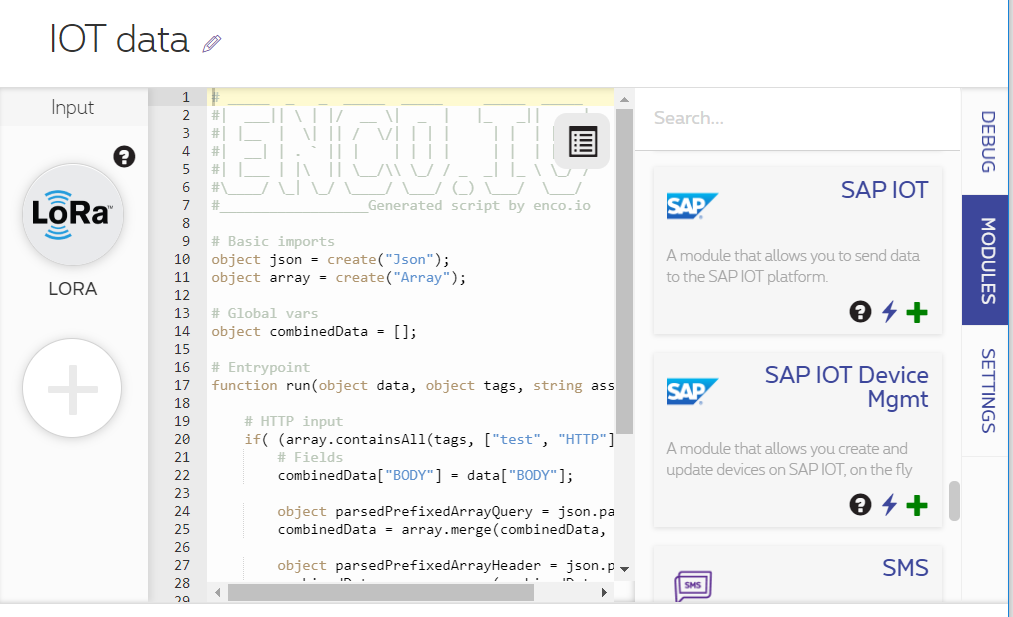 Future
The collaboration with SAP is just only starting and is already very exciting. We'll keep you informed about new outcomes.