Proximus EnCo and the MIC Belgique join forces to support small and medium enterprises adopting the IoT.
You are curious about IoT or want to start a project ? The IoT Lab is for you.
What does IoT mean for my business? Which benefits can it bring? Where to start? Which technologies are the best suited for my project? How to build and adopt such solutions gradually?
Answering these questions can be challenging.
On the other hand, IoT has the potential to optimize processes, to make your organization self-aware and more efficient.
It can also help you to create new services, new business models and new forms of customer engagement.
In this context, EnCo is very pleased to kick-off the IoT Lab in partnership with the Microsoft Innovation Center. Located in Mons, this open innovation platform aims at supporting Small and Medium Enterprises going digital and embracing the benefits of IoT.
A first milestone in our partnership with the MIC Belgique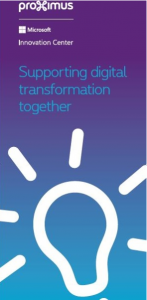 On December 8th 2017 Proximus announced joining the public-private partnership of the Microsoft Innovation Center Belgique (located in Mons), together with the Walloon Region and Microsoft.
By doing so, Proximus becomes a structural partner in the innovation centre.
Through EnCo, Proximus intends to encourage companies to adopt new technologies and facilitate the development of new solutions around the Internet of Things and other digital services.
The IoT Lab – a first step taken jointly by partners – provides an environment to prepare for the digital future in a spirit of open innovation.
IoT Lab, what is it?
It's a concept developed by the Microsoft Innovation Center and Proximus EnCo. It helps defining an IoT project and validating its technical aspects.
Some examples are:
Monitor where an object is in a warehouse to save time collecting it.
Manage the brightness of a place according to its attendance.
Establish store attendance statistics (eg smartphone tracking).
Set up predictive maintenance on machines and prevent them from breaking down.
Concretely
The IoT Lab covers:
The demonstration of IoT solutions.
Rapid project prototyping.
The exploitation of collected data in order to draw intelligence.
Especially by:
Making use of Proximus and partner sensors in concrete cases.
Leveraging the Proximus EnCo platform and APIs (IoT, CloudEngine, Telco services…).
Taking advantage of EnCo interoperability with Microsoft Azure and other solutions on the market.
For who?
The IoT Lab is for all SMEs, all sectors combined.
How can the IoT Lab help you?
We provide two types of support:
Case 1: You are interested in the subject, but do not see yet how the IoT will allow your business to grow?
Your will be able to discover concrete cases implemented at the Microsoft Innovation Center and draw inspiration from them.
We will also discuss your business and how IoT can help you.
Case 2: You want to get started but would rather test on a small scale before investing?
We propose to discuss your idea, test the technical feasibility and estimate the business value through a methodology that aims at measuring quickly the economic value of an idea.
As a result, the IoT Lab will allow you to test your project on a small scale before deploying it in your company with all the necessary expertise to make it a reality.
Interested?
Don't hesitate to contact us or directly Thomas D'Hollander @ the MIC for more information.
Looking forward to building new solutions with you !