Proximus EnCo has released the Real Time Crowd Management API, a new capability to measure live national & international footprint or audience on any geographic location in Belgium. Any software developer can now integrate live data streams on people count in their own solutions. Supporting smart city or smart mobility projects, assessing the impact of cultural events or opening the road to completely new solutions is once again made simpler today.
Audience monitoring – the usual ways
As an event organizer, large shopping mall manager or dealing with crowd-sensitive situations, being able to perform real-time audience or crowd monitoring can be a very complex task. If several technologies do exist today, they come with step-in requirements which may be difficult to achieve. To take a few examples:
Wifi sniffing requires this technology to be activated on the smartphones of your audience. With the multiplication of mobile price plans including large, if not unlimited mobile data, several have started to observe that the time spent on wifi is actually starting to come down. Not to mention people whose concerns about the security of public wifis may be totally justifiable.
Bluetooth-based location services most often leverage iBeacons. This technology requests that the visitors not only have Bluetooth enabled on their phone, it will also demand a dedicated mobile application to detect the iBeacons. Getting your branded app installed on your target population smartphones can already be very challenging,making sure it's not deleted too quickly is an extra hurdle you need to tackle.
Wifi, bluetooth or even new approaches such as smart cameras all require the deployment of a specific infrastructure to be able to collect the data. While this can be manageable in a controlled area such as a sport stadium or concert hall, it will become more complex in open spaces, because of the size of the place or simply because you may not get any authorization to deploy.
Could we use mobile network data ?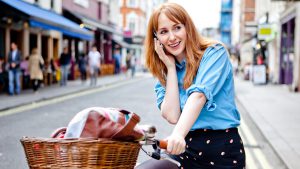 Now think for a moment about all of the mobile phones out there in every one's pocket or bag, whether smartphones or feature phones. Phones are connected all of the time to the mobile network, even if your wifi is on and connected. Every action, such as making or receiving a call, sending or receiving a text, transferring data because of surfing or messaging, all these actions do generate a trace on the mobile network, 365 days a year and 24 hours a day. The mobile network infrastructure is there, there is nothing you have to deploy. We can actually leverage the mobile location data, and after making sure it is properly anonymized and fully GDPR compliant, make it available to external parties to measure audience both historically and in real time. This is exactly what Proximus' Real Time Crowd Management (RTCM) does.
We can actually leverage the mobile location data and after making sure it is properly anonymized, make it available to external parties
The mobile network being divided into "cells", we won't be able to track an individual person nor tell you how many people are in a square of 2×10 meters, but we can report live on the number of national and international mobiles connected per cell or "TACS" (accumulation of 2G/3G/4G cells in a specific location and direction). It is important to note that the size of cells does vary and tend to be bigger in rural, open areas, while being smaller in dense urban or city spaces.

Real Time Crowd Management use cases
Low hanging fruit
The availability of location insights coming from mobile networks, such as Proximus RTCM is offeringon its EnCo marketplace, facilitates the enablement of "low hanging fruit" use cases such as pulsing the heart of a city in real time, assessing the national and international footprint during large outdoor music festivals, or helping tourist find quieter areas at the Belgian coast during sunny week-ends.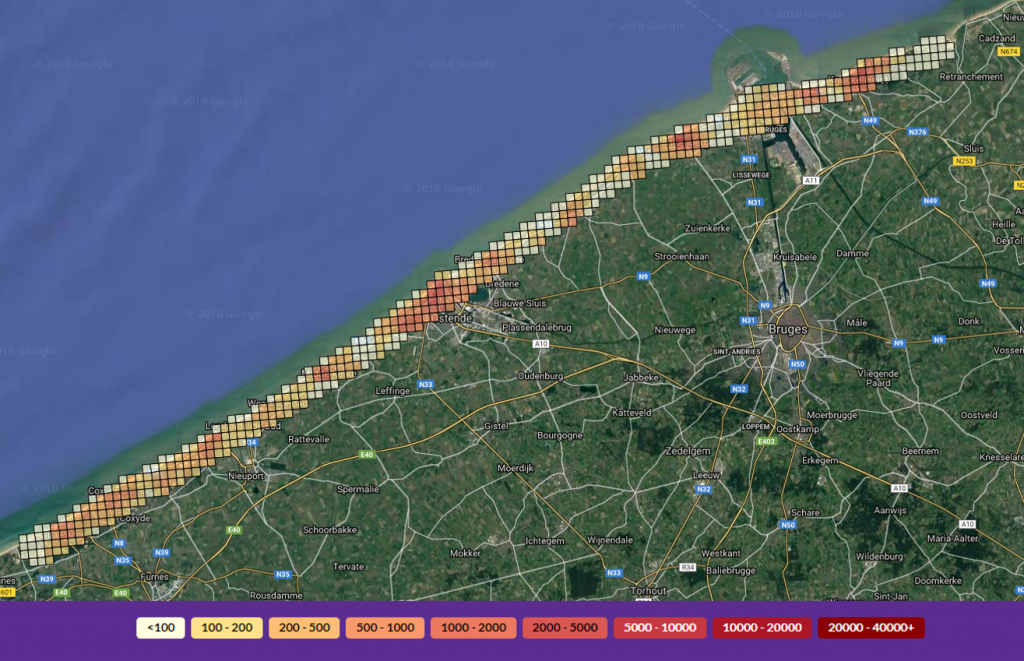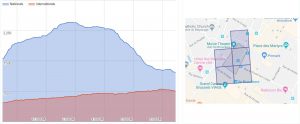 An open door to innovation
Real Time Crowd Management definitely opens up the road for new use cases. Let's take one example. If you live in a large city like Brussels, for sure you have already seen these large digital billboards which, in fact, are always showing the same ads or messages.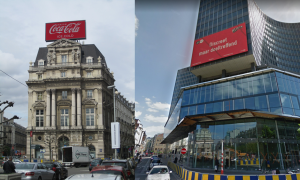 Now, let's imagine I'm Coca Cola. Maybe I would be ready to pay more to the billboard company if my ad was to be displayed on sunny days when there are at least 2000 people in the area of the boards. While if I'm working for the city promotion, I may find it a bargain to buy display time at low price to thank Americans and Chinese tourists for visiting the historical town center despite the rainy weather. We would call such trade platform the Advertisement Auction Platform, built along these principles :
Collect real time national and international footprint in the area of the billboards without deploying any infrastructure nor relying on mobile apps : real time crowd management APIs on EnCo
Collect real time weather information using battery operated sensors to lower maintenance : LoRa sensors combined with MyThings APIs on EnCo
Manage digital billboards location and availability using a cloud-based platform
Manage a digital asset library, where users can upload their digital content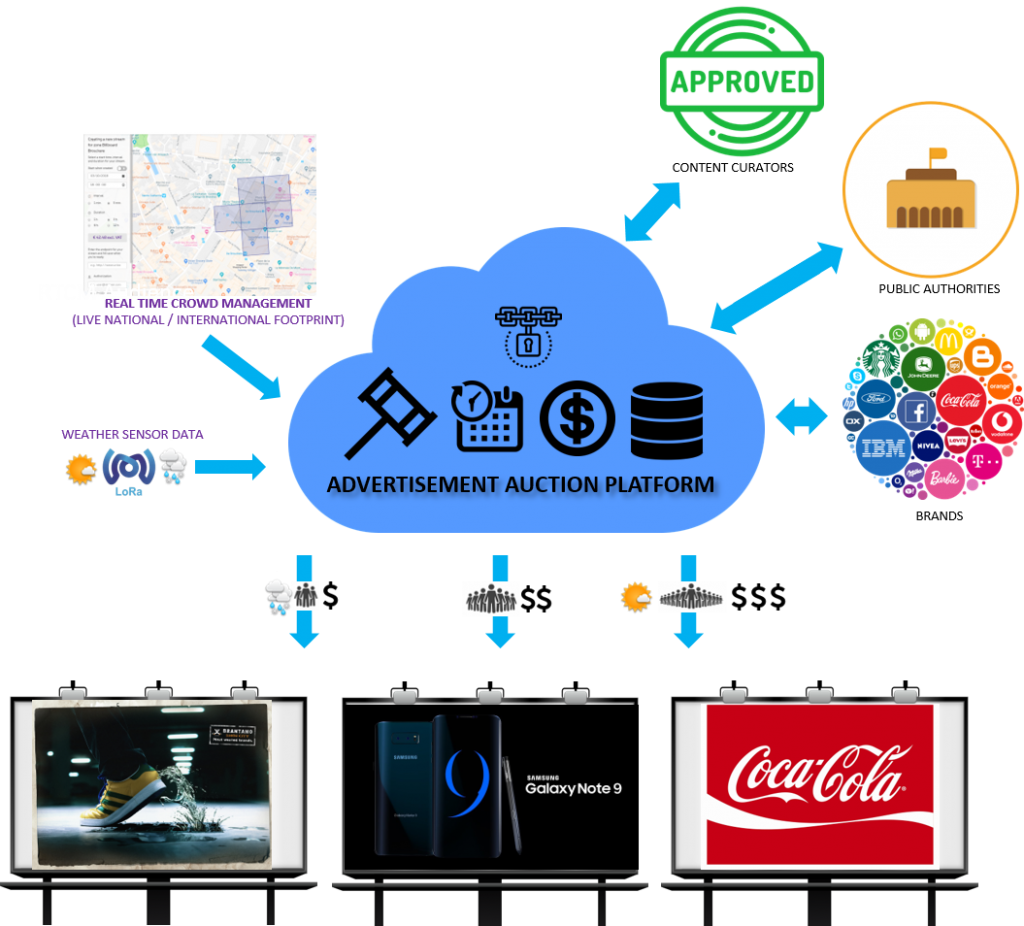 You can start testing today
Do you have great ideas or projects where live audience data would be required ? Any developer can enroll today on the EnCo marketplace and request access to the Real Time Crowd Management beta program. During our beta, you will get unlimited access to the APIs and can define any zone and data stream you need to properly assess our APIs. As a beta tester, we will value your feedback and may adapt our roadmap to your needs.